Florida's Best Solar Energy Company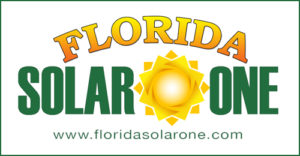 Florida Solar One (Florida license #CVC56788) is Florida's best solar energy company and is the #1 Ranked South Florida Solar Power Energy Contractor by Inc Magazine 2013-2016, Solar Power World 2013-2017 and Solar Reviews 2010-2017. Florida Solar One serves Fort Lauderdale, Miami, Palm Beach & The Florida Keys Home and Business Owners. Florida Solar One is one of the oldest, most experienced and highest qualified solar energy contractor in the region since 2008.
Florida Solar One is a Florida Certified Solar Installer designs, installs and services solar PV electric and solar water systems with proven experienced and certified solar energy engineers, technicians and project managers. All Florida Solar One employees are US Solar Institute trained and hold certifications by  UL, OSHA and NABCEP.
All Florida Solar One Hurricane Force Solar® panel systems are specifically designed and engineered for exceptional performance – even in the harshest hurricane prone regions of South Florida the Florida Keys and the Caribbean.
Get your Hurricane Force Solar® system installed by the Florida's Best Solar Energy Company,  Florida Solar One. The team with the proven skills to build, service or design your Florida solar panel system right, on time and under budget!
Certifications and Awards
2016 Inc. Magazine Top 500 Companies in America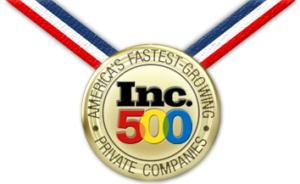 Florida's Best Solar Energy Company Inc. Magazine's Top 500 is an annual list of the 500 fastest-growing private companies in the United States, introduced in 1982. The Inc. 500 is ranked according to percentage revenue growth over a 3-year period.
In 2016 Inc. Magazine ranked Florida Solar One America's #241 fastest growing private company, #1 Florida energy company and #12 overall fastest growing energy related company in the United States since 2012.
---

2016 Solar Power World Top 500 Solar Companies in America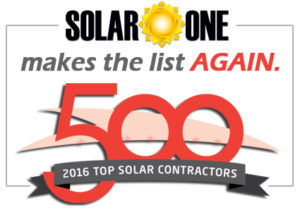 Solar Power World ranked Florida Solar One Florida's Best Solar Energy Company in 2013, 2014 and 2015. In 2016 Solar Power World once again ranked Florida Solar One as one of the best and largest solar energy companies in the United States.  The annual Solar Power World ranking is a testament to the quality of work being done by the company, a measure of commitment to customer satisfaction and a metric of the quality of the companies continued market share leadership.
Florida Solar One has come in at number #120 overall #42 in the top commercial solar contractor category in the US.
---

NABCEP Certified Solar Installer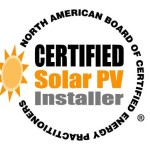 The North American Board of Certified Energy Practitioners (NABCEP) is regarded as the leading benchmark of industry knowledge.  Persons who hold a NABCEP Certification have met a rigorous set of qualifications and passed an industry examination proving the individual has a mastery of the current solar industry building codes, standards and safety regulations.
Florida Solar One # PV-100414-003166
---

Underwriter's Laboratory Certified Solar Installer

Underwrites Laboratory is the global leader in electrical safety. Persons holding a Certified PV system installer certification from UL have proven exceptional comprehension of the National Electrical Code and OSHA electrical safety standards from the leading safety corporation for over 100 years.
UL Certified PV Installer Certification # 024
---

Better Business Bureau A+ Since 2009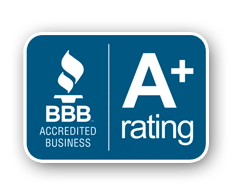 BBB has determined that Florida Solar One, Inc. meets BBB accreditation standards, which include a commitment to make a good faith effort to resolve any consumer complaints.
BBB Accredited Businesses pay a fee for accreditation review/monitoring and for support of BBB services to the public.
.
.
.
---

Solar Reviews 5 star Rated Since 2012

Solar Reviews is one of the solar industries most respected agencies for consumer ratings and reviews of solar energy companies across the US. Florida Solar One has been a Certified Pre Screen Pro in 2013, 2014, 2015 and now 2016 too.
Being a Pre-Screened Solar Pro means the company has multiple years of experience and has met a rigorous set of standards proven by unbiased reviews and ratings. OSHA Certified and 100% Accident Free Company.
---

Florida Solar One Osha 30 hour certified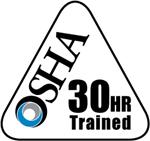 The Occupational Safety and Health Administration was established in 1971. Since then, OSHA has coupled with employers, safety and health professionals, unions and advocates, and have had a dramatic effect on workplace safety.
All Florida Solar One construction workers hold OSHA 30 Hour Safety Certifications.  Florida Solar One has a 100% safety record with zero incidents in over 10 years.
---

2015 Solar Power World Top 500 Solar Companies in America and Selected to Advisory Board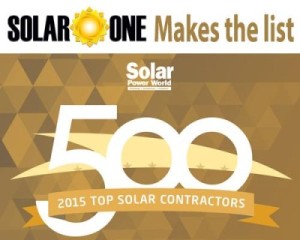 In 2015 Florida Solar One was selected to the Solar Power World (SPW) top 500 Solar Contractors Advisory Board as well as again achieving SPW Top Contractor recognition in Florida and US.
Solar Power World Top Solar Contractor 500 list is one of the most prestigious recognition from peers in the solar industry.
The annual award is given at the Solar Power International Trade Show and is considered a highlight for many contractors across the United States who come together to recognize excellence in the industry.
---
Honored with the Broward County Emerald Award in Three Categories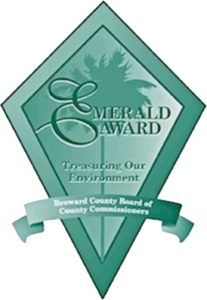 Broward County Board of Commissioners awarded Ray Johnson (President of Florida Solar One) with its 2012 Emerald Award trophy for Climate Change Leadership in the Community.
Other categories of the 2012 Emerald Awards awarded included Leadership in Recycling (US Solar Institute) and Green Innovation (Florida Solar One).
Contact Florida's Best Solar Energy Company
Contact Us / Send Us an Email