Solar Power World Ranks Florida Solar One a Top 500 Solar Installer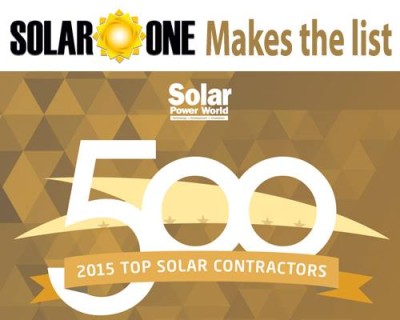 The Florida Solar Panel market continues to grow with twenty-seven Florida based solar energy companies making the Solar Power World's top 500 solar panel installer list. Florida Solar One a Top 500 Solar Installer in the state and nation in 2014 with a record setting year of installations despite Florida's historically low electrical rates, no renewable energy portfolio and 3rd party financing remaining illegal in the Sunshine State.
"People want solar energy in Florida and we have never been busier" states Florida Solar One's President and qualifier Ray Johnson. "Utility rebates and federal tax credits were once prime drivers of the market but, the utility rebates have now expired and yet the market remains strong, growing and costs have never been lower".
The cost of solar energy systems has been trending downwards for the past five years and as a result Florida solar panels are a more economically sound choice than traditional fuel generators for back up power options. Persons and businesses in the Florida market want energy options and solutions when traditional utility power goes down like it often does when hurricane force winds, driving rains and flooding can knock power out for days or weeks.
When the power goes out people desperate for fuel are often faced with closed gas stations that are unable to pump fuel without electricity. Those stations that are operational tend to run out of fuel quickly, have long lines and compete with each other for access to fuel truck deliveries. People with solar power systems do not face these issues making solar panels a good choice for those looking for power security and to avoid access to fuel challenges when the utility does go down.
Florida Solar One a Top 500 Solar Installer
"Begin recognized by Solar Power World is an honor and speaks to the quality of services provided by Florida Solar One. When people choose a contractor to work in their home and businesses they demand accredited, highly ranked and reviewed companies to be certain their system will be the best and outlast the harsh conditions found in Florida and the Caribbean. The bottom line is people want experienced installers and market leaders" shared Johnson.
For more information about Solar Power World Ranks Florida Solar One a Top 500 Solar Installer click here or visit www.FloridaSolarOne.com 1030 NE 43rd CT Fort Lauderdale, FL 33334 (954)-236-4599