Florida Commercial Solar Construction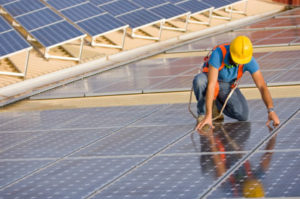 Solar Power World Ranked Florida Solar One as the #1 South Florida Commercial Solar Contractor.
When it comes to commercial solar energy systems, there is no substitute for experience and the professionals at Florida Solar One are the most experienced Florida Commercial Solar Contractor and team in South Florida.  Let the Professionals at Florida Solar One provide a FREE ESTIMATE for your retail, commercial or institutional solar energy systems in Florida or The Caribbean Today.
Our staff, partners and principles are solar energy specialists with decades of mega watt level proven professional commercial solar construction, design and service experience.
The team at Florida Solar One has relentlessly focused exclusively on gaining the highest energy production for systems specifically engineered for hot humid hurricane prone regions found in Florida and the Caribbean.
The team at Florida Solar One knows what it takes to build Commercial Solar Construction Projects on time and budget even in the harsh climates of the tropics for the most demanding clients and weather conditions. Our experience includes designing a state of the art solar PV for NASA at the Kennedy Space Center in Florida. We also designed a large commercial solar system for the US Navy in Key West and the Dart Corporation in The Cayman Islands to name a few.
No other company in the Caribbean can match the proven success of Florida Solar One's Commercial Solar Systems
Your system will be built by true qualified Solar Professionals, as required by Florida Law. They have hundreds of Florida commercial solar construction designs and projects completed. We provide professional services for any size system need or application.
Florida Commercial Solar Contractor Construction and systems require advanced knowledge in electrical integration because of the size, complexity and need for advanced overall system functionality, energy harvest and the safe proper application demanded by larger system users.
Florida Solar One is a leading Florida Commercial Solar Contractor with operations in the Caribbean, operations and installations in The Bahamas, Jamaica, Aruba, Cayman and many other locations.
Florida Solar One Thanks our customers for making us one of the most recognized solar companies in Florida and the US.

In 2013, 2014, 2015 and 2016 Florida Solar One ranked the #1 South Florida solar company by Solar Reviews.

In 2015 Solar Power World selected Florida Solar One for their advisory board in addition to placing FS1 into the list of Top 500 Solar Installation Companies in the US.

BBB rewarded Florida Solar One with an A+ rating for customer satisfaction since 2012.

Also, in 2015 Inc Magazine ranked Florida Solar One the #1 fastest growing energy company in Florida from 2012 to 2015.
Total Kilowatts Installed Since Founded in 2008